The 'Theatre of Light' exhibition was a big success. Many thanks to everyone who came along. Half of the exhibition, i.e. 20 paintings have been  sold during the show.  For interest in any of the remaining work contact Ric at tel. +44-07835294317, or email: enquiries@richorner.com.
Prices range from £ 450 – £ 1500. To view larger images , click on the thumbnails, which will reveal the details – then click again.

Ric Horner is one of the country's leading landscape painters, whose professional career spans more than 25 years. Graduating from Exeter College of Art in 1989, he spent the first two years of his career living and working on Dartmoor, developing a unique and profound engagement with light and distance. His artwork has a metaphorical resonance that is reminiscent of great nineteenth-century landscape painting and yet it is utterly modern, firmly resisting the urban, technological and over-populated world.
Thanks to Ric's longstanding friend, supporter and art collector, Devon based historian and internationally acclaimed author of 'The Time Traveler's Series' and 'Centuries of Change', Dr Ian Mortimer, he was able to put on a stunning exhibition of  40 new landscape paintings on the theme of Dartmoor National Park, which are on display at Green Hill Arts Gallery in Moretonhampstead.  http://visitmoretonhampstead.co.uk.
The exhibition opened on Friday, 9th September were Dr Mortimer introduced Ric Horner and talked about his work in an art historical context. You can listen to his 10 min speech below.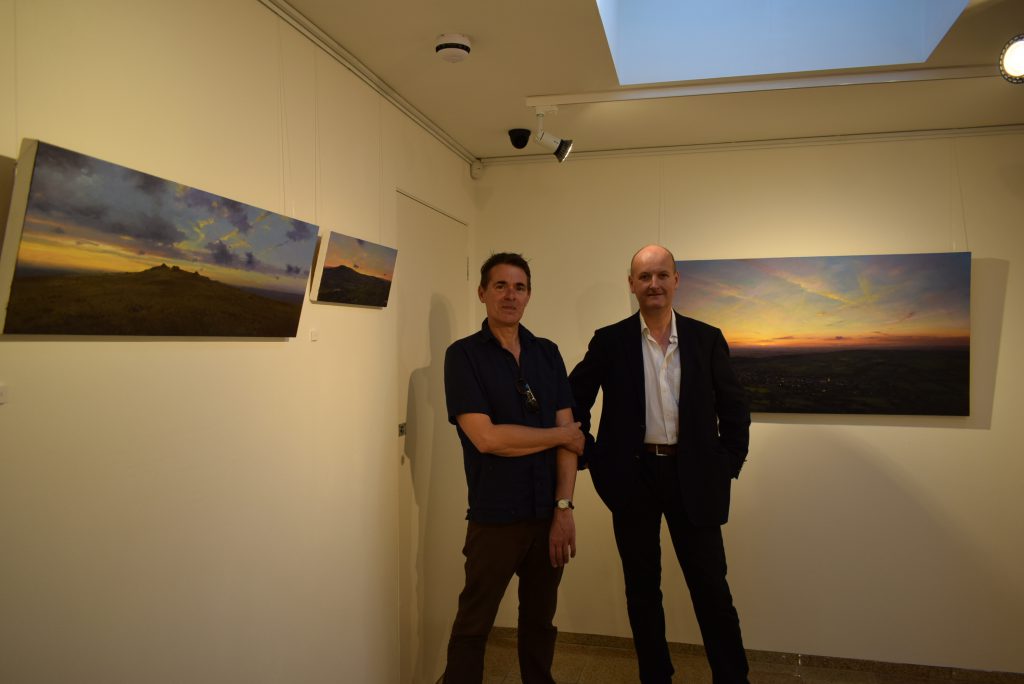 Dr Mortimer says about Ric's work:
"I have no doubt that, in due course, Ric Horner will be recognised as one of the most significant landscape artists of our time. His dedication is astounding; his integrity no less so. For me it has been a privilege and an honour to be so closely involved with this exhibition, and to have been able to buy a number of his paintings over the years. For you, I hope this vision of our place in the world, carved out of the light that falls on all of us, proves equally rewarding."

He goes on: "In this exhibition, you will find yourself on a road at night having just seen the first welcoming streetlight of the village: you will soon be home and warm…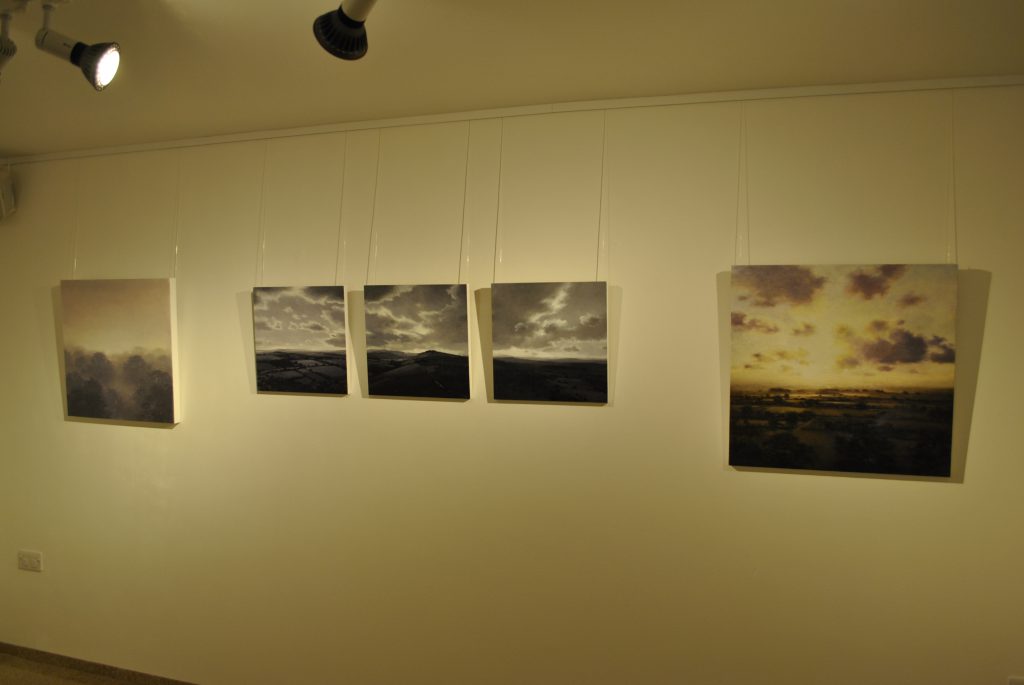 The sun has gone down behind Laughter Tor leaving a few drifting clouds and vapour trails in the deep blue sky: the seemingly eternal rocky outcrop is juxtaposed with the ephemeral vestiges of the day.

But the most striking feature of these Dartmoor paintings is the light. Often the painting is not actually about the hill, rock or any other object in the distance; it is about the space between you and that object. It is a portrait of the light…

…a place where skies brood, threaten, delight, obscure with mist, groan with rain or brighten with a ray of optimism."

"A stunning exhibition of the highest calibre!"

"Poetic, beautiful, bold and absolutely marvellous!"

"They are  sublime. So magical and true to the atmosphere"

"Ric Horner's work is superb – truly spectacular!"

"Breathtaking views and big skies! Fabulous."

"Wow! "I absolutely love your work; such stunning paintings. The most amazing sky and little houses shining like jewels.  What an uplifting exhibition!"    
Entry is free.  Green Hill Arts  Gallery www.greenhillarts.co.uk            is open weekly from 10am-4pm from Tuesday to Saturday.
Fore Street
Moretonhampstead
Newton Abbot
Devon
TQ13 8LL
Contact Tel: 01647 440775
Email: contact@greenhillarts.co.uk
Also available is an accompanying 32-page catalogue (A5) with an introduction by  Dr Mortimer talking about Ric's work in an art historical context.
You can pick up a copy directly at the gallery for a reduced price of £ 6 for the duration of the show, or order online via Cross Tree Press which is            £ 9.99 incl. postage to the UK.  
To order either the catalogue, greetings cards and postcards visit: http://www.crosstreepress.co.uk/theatre/theatre.htm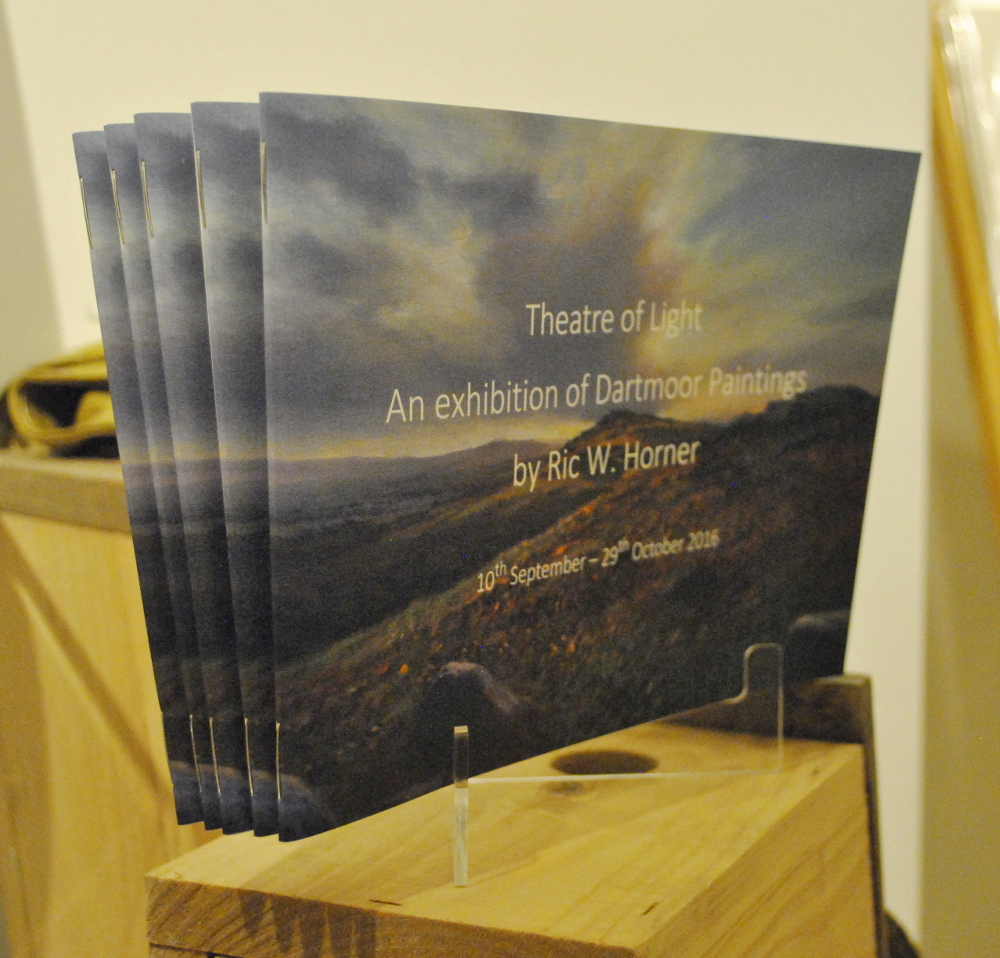 Green Hill Gallery is situated at the top of Fore Street, Moretonhampstead, close to the Parish Church. Parking is available in the Court Street and Station Road car parks.
Bonehill towards Rippon Tor (plein air) , oil on wood panel, 43 x 75cm – £ 400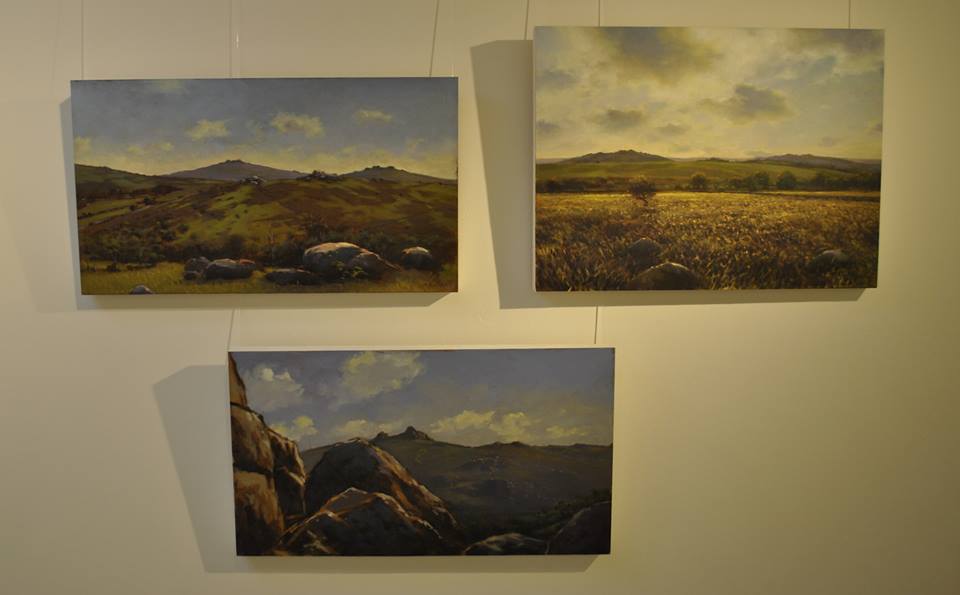 The show coincides with the Devon Open Studios, which runs from 10 September to 25 September 2016.  http://www.devonartistnetwork.co.uk/artists/green-hill-arts. Check the online map page 40 (Teignbridge region) for other open studios in the area.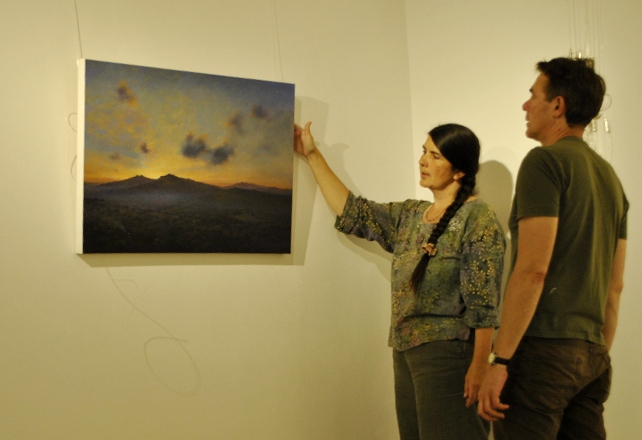 Hard copies of the 'Devon Open Studios' brochure are available from local Tourist Information Centres, Libraries and arts & community venues across the county. __________________________________________________________________________
Below: Ric & Ian on field trip to The Strangles in Sept 2014, where the idea of the 'Theatre of Light ' exhibition was originally created.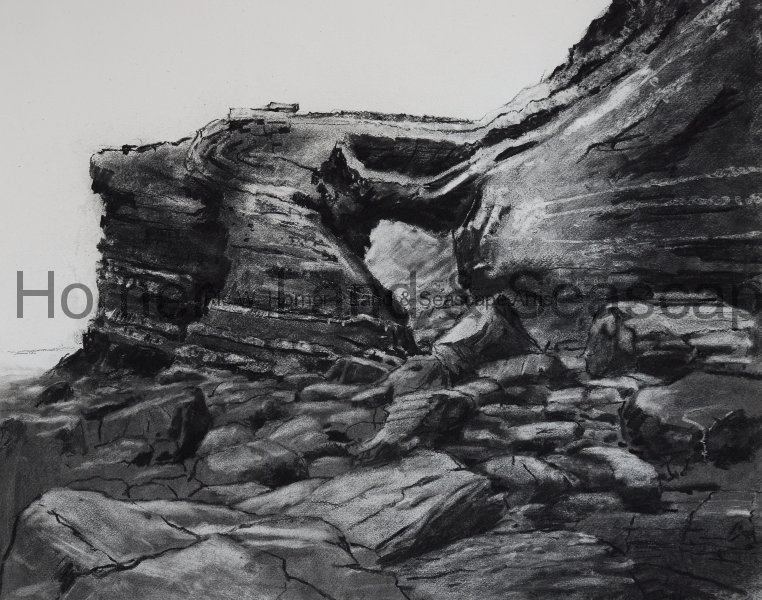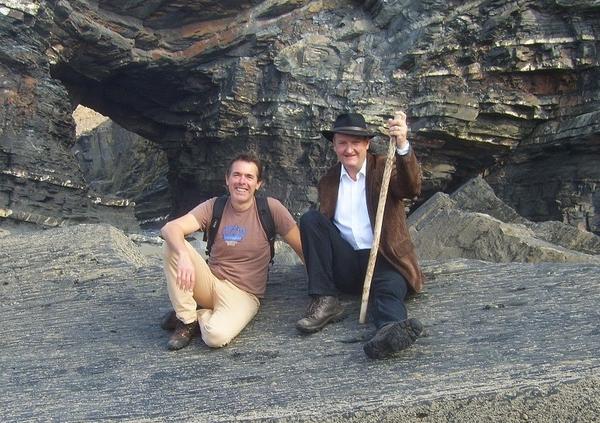 I am available for commissions.  Please contact me at:             enquiries@richorner.com, if you fancy one of your own favourite views painted.