Ric has created many atmospheric sunset paintings of Canterbury Cathedral over the years and is now also offering some of them as high-quality prints and greeting cards. They range from £ 3.00 to £ 145.00. There are currently no original paintings of Canterbury available, but do get in touch if you are interested in a commission.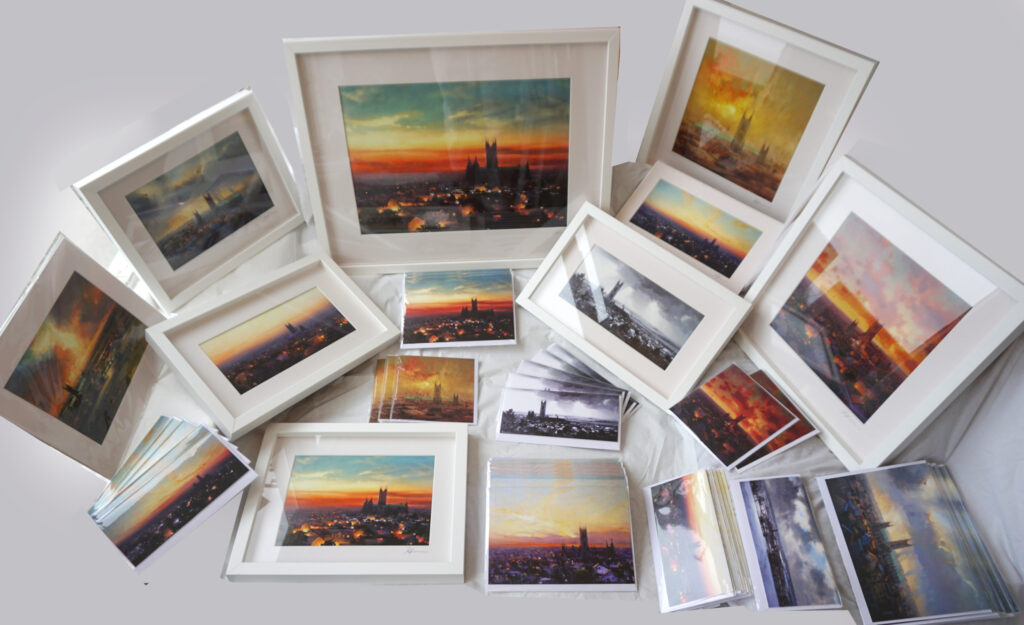 Canterbury is a cathedral city in the southeast of England, situated in the county of Kent. It was a pilgrimage site in the Middle Ages that was founded in 597 A.D by St Augustine. Primarily a unique place of Christian community and worship, is also the headquarters of the Church of England and Anglican Communion, a major pilgrimage destination, a masterpiece of art and architecture, and one of the UK's most-visited historic sites.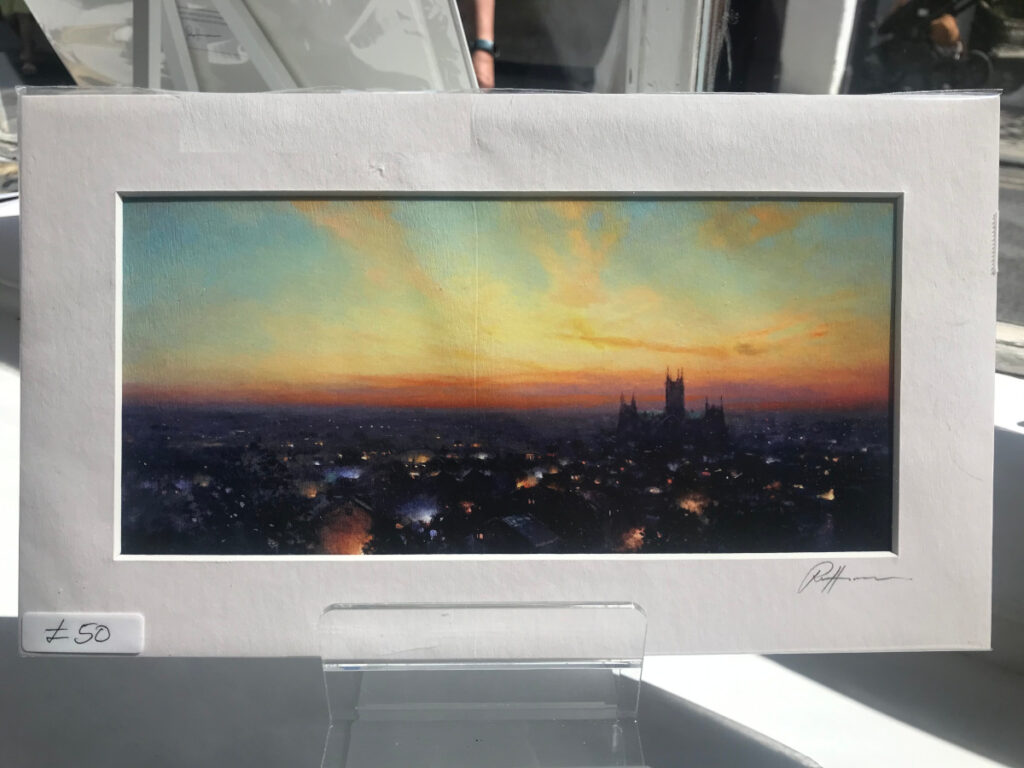 A truly romantic city, the cathedral incorporates Gothic and Romanesque elements in its stone carvings and stained-glass windows. The rest of the whole town has ancient walls, originally built by the Romans that encircle its medieval centre with cobbled streets and timber-framed houses.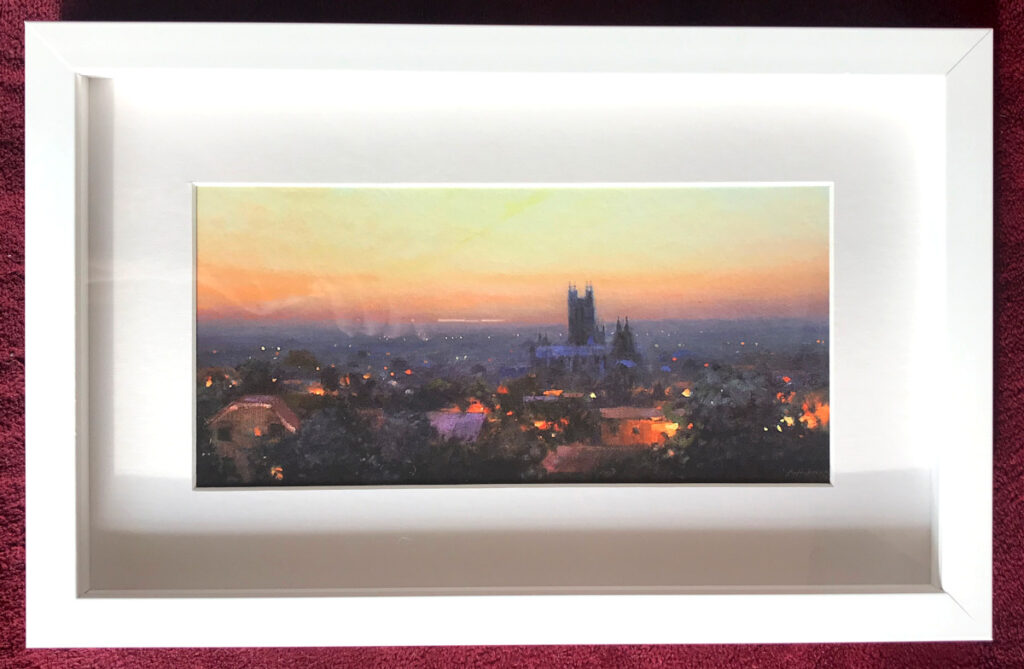 In just under 1 hour's train journey from London, Canterbury is one of the most popular tourist and holiday destinations in the world. As a UNESCO World Heritage Site, the Cathedral sits alongside the Giza Pyramids, the Taj Mahal, and Chichen-Itza as a must-visit location of outstanding universal value to humanity.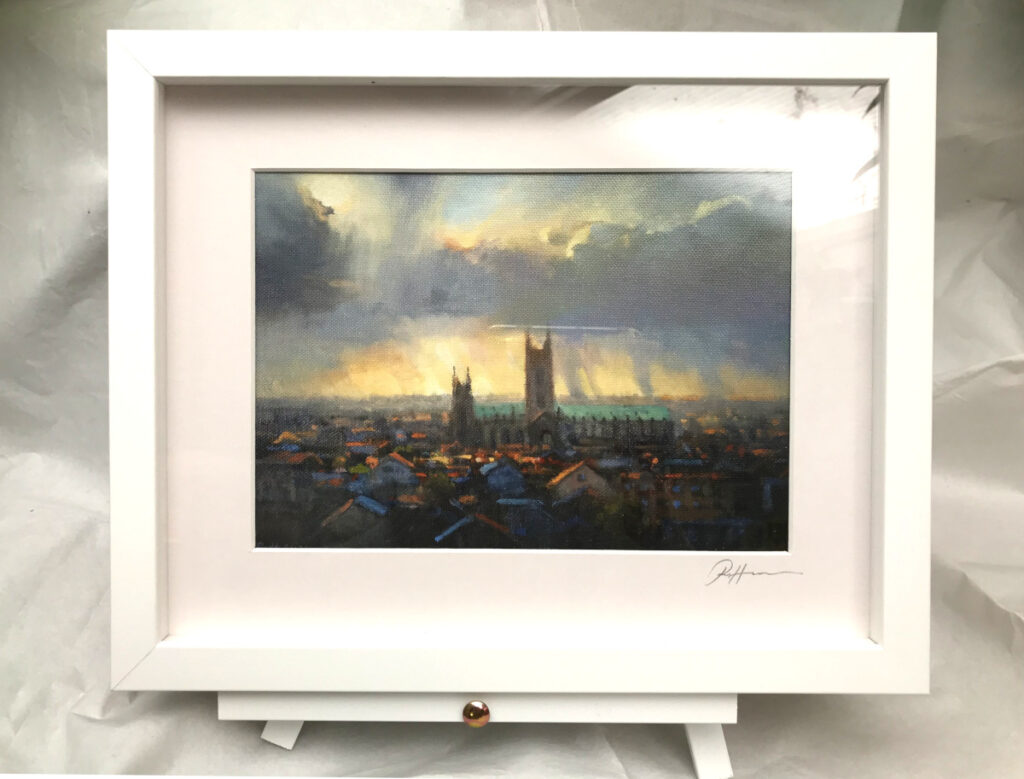 Home to three universities, Canterbury Christ Church University (CCCU), University for the Creative Arts (UCA) and The University of Kent, the city is also a melting pot for creativity with vibrant nightlife and a packed calendar of cultural events for every age and every community all year round. So when in town, you can enjoy the annual Canterbury Arts Festival, or spend a day out and breath in fresh sea air in the lovely coastal town of Whitstable.

Now in its 23rd year, the East Kent Artists Open Houses (EKOH) Fringe Festival has gone from strength to strength with more participating artists than ever. This year they present over 250 artists across 80 houses and studios. Locations include Canterbury, Whitstable, Deal, Faversham, Ramsgate and Broadstairs.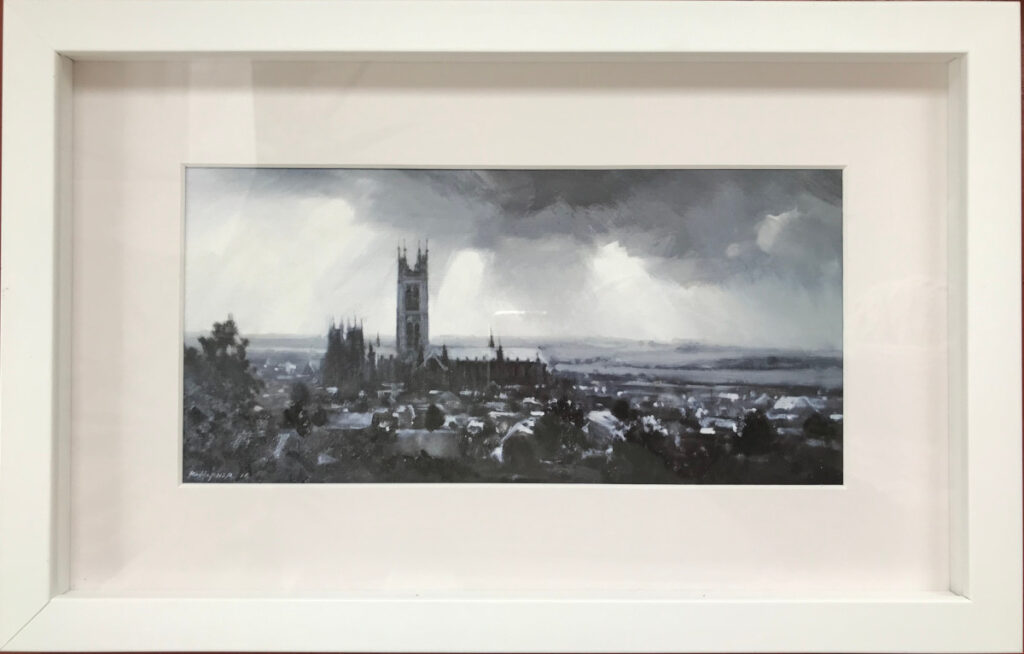 Ric exhibits every year as part of this trail. You can visit his open studio from 14, 15, 21, 22, 28, 29 October 2023, 10–5pm https://ekoh.org.uk/whitstable Facebook: East-Kent-Open-Houses www.instagram.com/eastkentartistsopenhouses. The trail will give you a personal insight into how an artist works within their specialised field and is your chance to speak to them about their work. For full trail listings, visit the website: ekoh.org.uk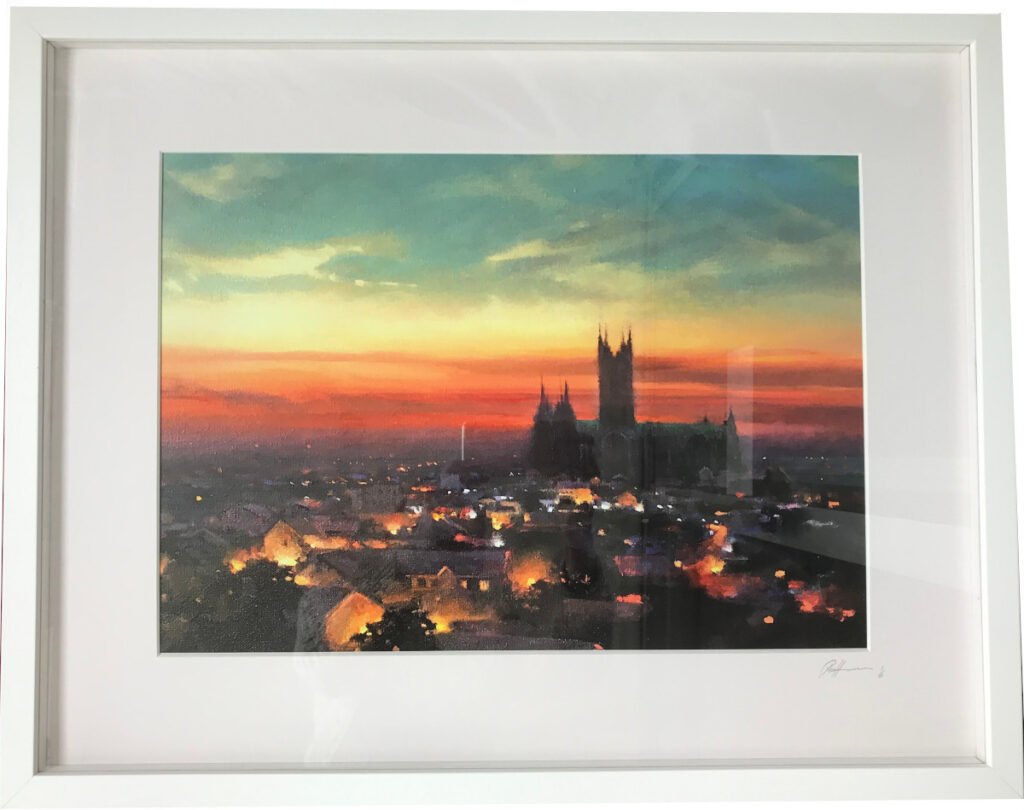 Framed prints range from 33 x 20cm, 35 x 28cm, 37 x 37cm to 61 x 48cm. They are all hand-signed and professionally produced on high-quality Hahnemühle Albrecht Dürer artist paper.
The square painting above is called 'Canterbury Cathedral at Sunset', framed print is 37 x 37cm.
All items will be listed to our shop page soon, but as we are still at the early stage of this project, this might still take a little while. Ric is also planning to introduce them to various retail outlets in the Kentish region in the near future.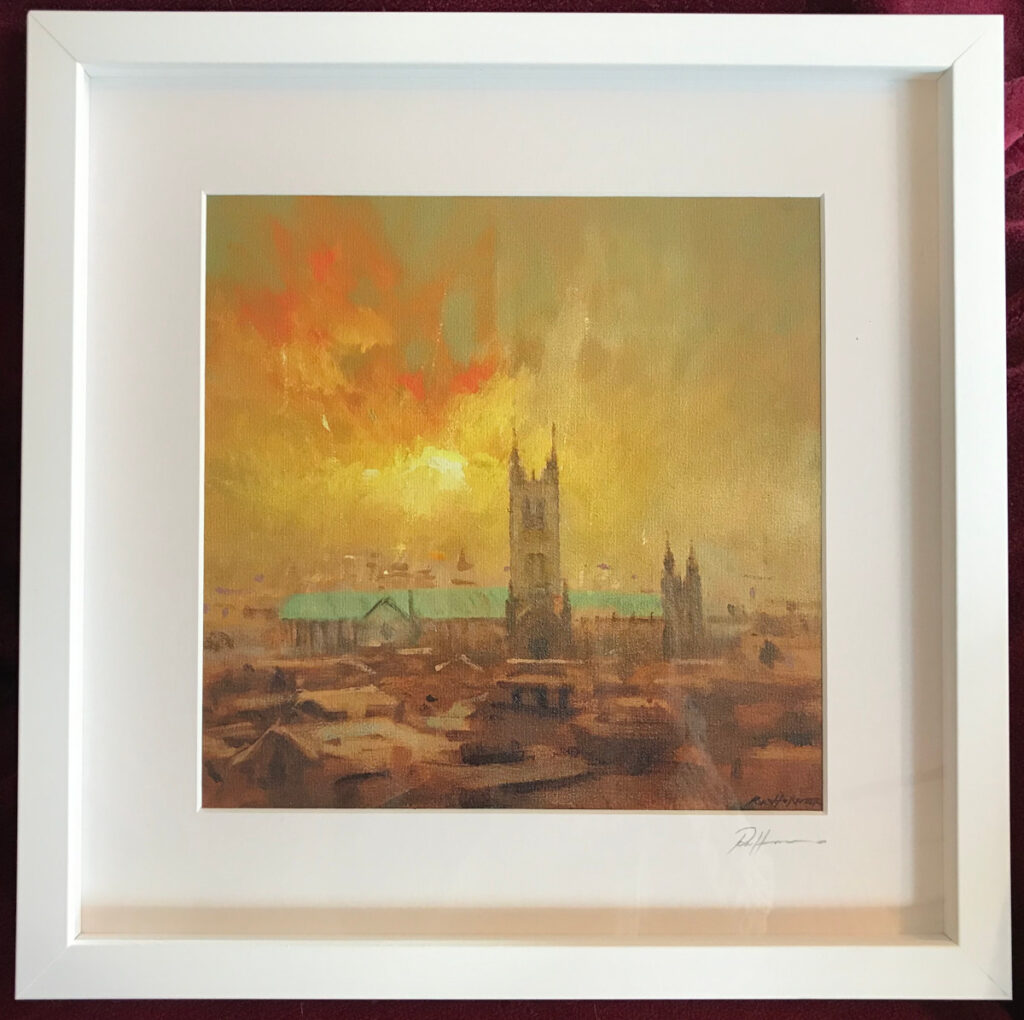 Greeting Cards are printed on 324gsm textured matt paper and come in three different formats: 22 x 15cm (A5), 15 x 15cm (square) and 21 x 9.90cm (DL long), each including a white envelope and protective cellophane bag.
These beautiful cards and prints are a lovely memento for any tourist, residents, students, or visitors to Canterbury and offer a wonderful memorabilia that people can cherish long after they have left the city.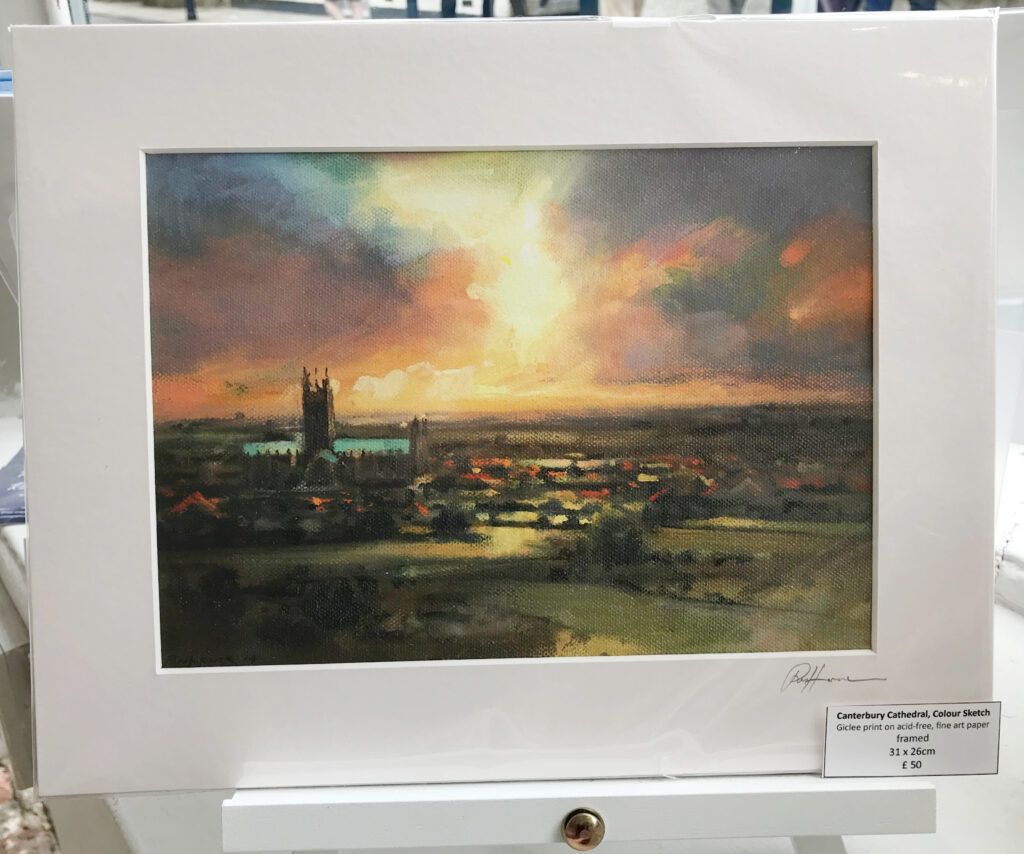 ______________________________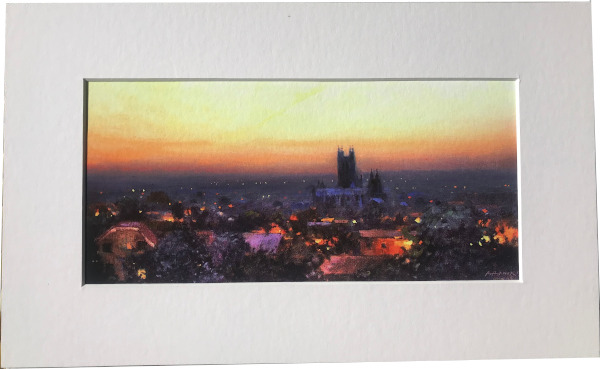 ______________________________
Below are a couple of older paintings, but they are not viable for greeting cards.