Ric is well-known for his moody weather portraits and has painted many coastal locations in Kent, Devon, Cornwall and Wales throughout his career. He is currently creating a range of greeting cards featuring the open sea, dramatic ocean waves, intimidating storms and scenic harbours at sunset.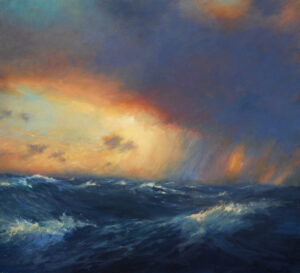 The UK coastline is some of the most beautiful in Europe and has a huge number of sailing towns that range from rocky and scenic to stylish destinations known to visitors from around the world. You just can't beat the rugged cliffs and lush green landscape of England, which is unofficially the 'home of sailing' and it has a long and glorious tradition of boat building and for rearing fine sailors.
Sailing around the UK will get you out of the crowded Solent and into waters further afield. This adventure involves open-ocean and much more offshore-orientated sailing, which may mean rougher weather and more challenging conditions. Ilfracombe in North Devon and Bardsey Island in North Wales for example are far more open to the elements as they catch the Atlantic ocean swells to a greater extent than places further South. This means bigger waves and longer and sandy beaches. South Devon is more sedate, is often warmer, sunnier and gets lower rainfall.
Salcombe in particular is known for its outstanding views, rolling surrounding countryside, breath-taking natural beauty, sparkling turquoise waters and rugged cliffs. It is a pretty coastal town with lovely spots for sailing traditional boats, or classic yachts. Salcombe was once a major port for the fruit trade and, over the years, has found fame as a safe haven for family holidays and visiting yachtsmen. It is situated at the southern end of the Salcombe Estuary; the estuary is, in fact, a ria which is a landlocked, salt water inlet, with stunning beaches.
If you are a retailer and like to stock any of these cards get in touch via enquiries@richorner.com. They are produced in three different sizes:  22 x 15cm 15 x 15cm and 21 x 9.9cm and become available in the next couple of weeks (autumn 2023).
Related Images: